Spotlight on Feast of Fools (plus GLBT Podcasting)
One of the most popular talk shows on the Internet today, as well as one of the originals in the gay market, Feast of Fools, alternately know as Gay Fun Show or simply FoF, is a mix of celebrity interviews, news commentary, author chats, cocktail recipes, grooming advice, political forum, new artist musical interludes, gift opening, and letter reading.
The show has won Best GLBT Podcast from the People's Choice Podcast Awards and Best Podcast from the Gay Bloggies. As the most widely downloaded gay podcast, its availability has brought GLBT-themed programming to listeners in cities, towns, and rural areas across the country and around the world.
These Guys G
et Social Networking and Web 2.0!
Yes, they may have won some fantastic awards and have created a show with fans worldwide, but one of their greatest strengths is that not only do they keep contemporary with their pop culture and show content they produce 5 times per week, they also stay way ahead of the curve when it comes to using the new tools of social networking and Web 2.0 to keep their audiences informed and in the loop, as well as reaching out to new fans through this viral network of Facebook, Plaxo and more!
First, their use of photos. With the concept of photo tagging launched by Facebook, the world of photos has a whole new lease on life. Combine this with the Photoshop talents these two exhibit with their campy but uniquely branded photos put online each week and you have yourself a powerful form of branding that reaches all of their fans on their Facebook group, as well as all of their fans subscribing to their photo updates on Flickr. By incorporating their Flickr photo feed into Plaxo, they are one of the few businesses out there today using the social networking power of photos to keep their show at the forefront of peoples minds on a daily basis, without ever being too intrusive.
In addition, they understand how to emerge from behind the safety of the computer screen and reach out to their fellow new media peers and their fans, including hosting a meet and greet mixer coinciding with the New Media Expo in Las Vegas recently.
About the Hosts and the Show
Host Fausto Fernós is an Eartha Kitt-stalking, brown-haired (and soul- patched), quasi-former Boricua drag performer who once graced public access television as Faustina. Factoid: Fernós learned how to eat fire from the Lesbian Avengers.
His partner in life and podcasting is Marc Felion, who spends time fielding emails that label him as Chris Noth's "ting-a-ling" doppelganger, updating the show's myspace page, and salivating over Czech porn star Pavel Novotny.
The Feast of Fools podcast continually ranks as the top-rated gay & lesbian podcast on iTunes and is frequently listed in the Top 100 list of Comedy podcasts. On average, the podcast is downloaded 40,000 times per week, making it the most downloaded GLBT podcast in the United States.
A typical Feast of Fools show is a round table discussion on unusual news stories, GLBT issues and social trends. Other shows may feature celebrity interviews (live or by phone), cocktail recipes, or "how to" sessions, such as 'How drag queens lip sync and put on makeup.' Celebrities and other notable guests are asked a series of "Breakdown" questions at the end of the show, such as "Describe yourself as a fancy shade of paint" and "What would you like to see Oprah doing in 5 years?" Since 2005, the Feast of Fools podcast has interviewed many celebrities, including Margaret Cho, Kathy Griffin, Teri Garr, George Takei, John Waters and Bruce Vilanch. Occasionally, a show will open with an original cocktail recipe, usually given a name that pays tribute to that episode's special guest. Cocktail recipes feature unique ingredients or put a new spin on classics. Examples include the "Organic Cosmopolitan" (a tarter version of the popular drink made with unsweetened cranberry juice concentrate and all natural ingredients) and the "Dancing Queen,"(an unusual and flavorful combination of pear sake and energy drink).
When not interviewing a special guest, Fernós and Felion are often joined by a rotating cast of regular guests.
Music is an integral part of the Feast of Fools podcast, and the show regularly interviews and features the music of up-and-coming talent, mostly unsigned or signed to independent record labels. Born out of necessity due to copyright and RIAA restrictions on the use of music on podcasts, this feature of the podcast has grown into an important avenue for emerging musicians to reach a previously untapped audience. Musicians whose music is featured on the Feast of Fools podcast realize increased sales on iTunes and Amazon.com. Musicians featured on the Feast of Fools podcast include Calpernia Addams, Gaye Adegbalola, Reuben Butchart, Dangerous Muse, Ferron, Scott Free, Chris Garneau, Robert German, Leslie Hall, Hey Willpower, Eric Himan, Levi Kreis, Mystechs, Jen Porter, Rachael Sage, Jim Verraros, and The Wet Spots.
And how do these guys make it work?
Like public radio, Feast of Fools stands on the shoulders of it's listeners, both financially and to stay ahead of the news. (They do have several key sponsors but they also depend on the support of their loyal community to donate money and buy merchandise.)
And why is this show a success?
As quoted by Marc, "the show succeeds because of our passion and experience, not because of the technology behind it or the money we invest in it. Our passion for creating a unique show is what we think makes it work. We want to give gay people a smart, humorous and savvy voice. We've observed that when traditional media companies attempt to copy our success they mostly fail because they lose sight of what makes the Internet great- the uniqueness of individuals and the ability to come together to form new communities. "
LINK:
www.feastoffools.net
A Note About Po
dcasting:
Besides the popular Feast of Fools show, there are a small number of similarly popular podcasts online for the GLBT community. One of the most popular is the Josh and Sara Show on here! Networks. Several years running now, hosts Josh and Sara inform and entertain with a variety of notable guests including authors, performers, musicians and activists. Josh's extensive knowledge of pop culture, entertainment & gay media as well as New York nightlife adds a unique perspective and singular interviewing style to this eclectic show. Sara brings to the table a female perspective, Jersey pride and a love of authors, musicians and people involved with small organizations doing big things for the LGBT community.
LINK:
http://www.heretv.com/APodcastDetailPage.php?id=1
Not sure where to start when searching out GLBT podcasts? QPodder.com is an excellent place to begin, featuring a variety of popular podcasts including Oh My Pod!, GoRainbowRadio.com, the Adam and Matty Show, the Twinkleboi Show and the QCast Connection, to name just a few.
LINK:
www.qpodder.com
JasonCable.com is a local podcaster out of Pittsburgh who has been putting together a more serious and politically slanted podcast for years now.
LINK:
www.JasonCable.com
---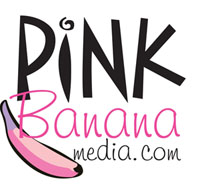 Gay and Lesbian Social Networking
Advertising - Marketing - Community

For the full-color PDF version of this story, go here:
http://www.PinkBananaMedia.com/pdf/gmg2008-podcast.pdf

To subscribe to the PBM Monthly Gay Business Report, go here:
http://www.PinkBananaMedia.com/BusinessReport/

For the annual PBM Gay Market Report, go here:
http://www.PinkBananaMedia.com/MarketReport/

NOTE: This article is part of the Gay Market Report 2009 and is FREE TO USE as long as byline above, credit, logo and link are included with story. Credit Pink Banana Media, www.PinkBananaMedia.com/MarketReport/, and please use the following logo linked below:
http://www.pinkbananamedia.com/images/pbmlogo_200.jpg